Found here, had at Saigon Express on Main and always wanted to try.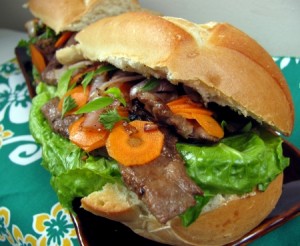 makes 2 sandwiches
Ingredients
Carrot Daikon pickle condiment:
1/2 cup carrot matchsticks (or thin coins like I did)
optional 1/2 cup white daikon radish matchsticks
Generous pinch of salt
1 TBS sugar
2 TBS rice vinegar (or white vinegar)
Marinade:
1 TBS finely minced garlic
1 TBS fish sauce
1 TBS soy sauce
1 tsp sugar
1/2 tsp fresh ground black pepper
2 TBS high heat cooking oil plus more as needed (divided)
1 lb (500 g) sirloin, top round, or rib eye (as thinly sliced as possible)
Sandwiches:
1 shallot thinly sliced (or you can use some red onion)
2 8 in hoagie rolls or baguette sections
4 large pieces green lettuce
10-15 leaves of cilantro, parsley, basil, or other fresh herbs
Instructions
Toss carrots and daikon with the salt, sugar, and vinegar. Let sit at room temperature at least 30 minutes. If not using immediately, add enough vinegar to cover veggies, stir, and store in glass jar or plastic container up to 1 month.
In a bowl whisk together garlic, fish sauce, sor sauce, sugar, black pepper and 1 TBS of the oil. Add beef slices and mix well to coat each slice. Marinate at room temperature for 30 minutes or overnight in the refrigerator.
Set a large frying pan or grill pan over high heat. When the pan is hot, pour in 1 TBS of the oil and swirl to coat the pan. You'll be cooking the beef in batches, how many depends on how big your pan is.
Add the beef slices, laying them flat and in a single layer. Fry 30 seconds to 1 minute depending on how thinly it's sliced. Flip and fry other side 30 seconds to 1 minute. Edges of the beef should be just slightly charred, but cooking time should be kept to a minimum to avoid overcooking meat. Pour any juices left in the pan into a small bowl. Fry additional batches of meat slices the same way, adding a touch more oil if necessary, and reserving pan juices.
Return pan to stovetop on high heat. Add a touch more cooking oil and when hot, add the sliced shallots. Fry for 30 seconds, until just softened, mopping up any remaining pan juices and caramelized bits during the frying.
To assemble sandwiches, slice the hoagie rolls or baguettes in half lengthwise. Brush each side with some of the reserved pan juices. To each sandwich add a layer of lettuce, then grilled beef, carrot daikon pickle, grilled shallots, and finally sprinkle on the herbs.
Related Posts