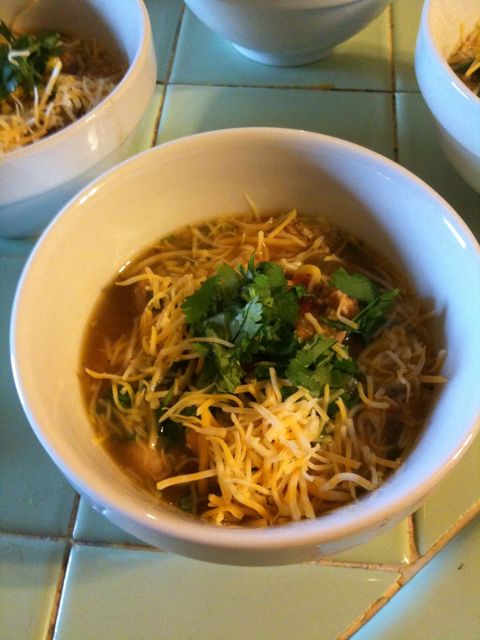 Here is the recipe I use for our Christmas/Birthday Chili Party.
Ingredients
2 tablespoons vegetable oil
1 pound diced, cooked chicken meat (I use thigh meat, and brown it before adding it to the pot)
1 onion, chopped
2 cloves garlic, minced
1 (14.5 ounce) can chicken broth
1 (18.75 ounce) can tomatillos, drained and chopped
1 (16 ounce) can diced tomatoes
1 (7 ounce) can diced green chiles
1/2 teaspoon dried oregano
1/2 teaspoon ground coriander seed
1/4 teaspoon ground cumin
1 (15 ounce) can white beans
2 ears fresh corn
salt to taste
ground black pepper to taste
1 lime, sliced
Directions
Dredge the chicken in flour and brown in oil.
Set chicken aside and cook onion and garlic until soft.
Stir in broth, chicken, tomatillos, tomatoes, chilies, and spices. Bring to a boil, then simmer for an hour.
Add corn and beans; simmer 10 minutes. Season with salt and pepper to taste.
Serve with these toppings for people to choose from: limes, cilantro, cheese, avocado, sour cream, and tortilla chips.
You can also increase the heat of the recipe by adding a couple chopped serrano or jalapeño chiles to the mix, or use them as add-ins if not everyone in your group is in to extra spicy food.
Related Posts