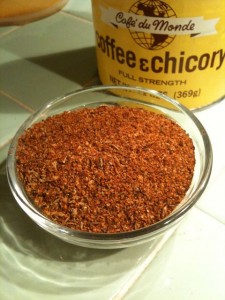 With the 4th Annual Mario's B-Day-Q recently past, I thought I'd pass on the dry rub I use for my brisket. This is by no way a secret, I adapted the recipe from one that Bobby Flay uses in his Boy Meets Grill show on the Food Network.
This rub is not only good on brisket, but it goes great on steaks, chicken and pork.
I mix everything in a 1-to-1 ratio:
Kosher Salt
Coarse Ground Black Pepper
Ground Cumin
Ground Coriander
Dried Thyme
Garlic Powder
Ancho Chile Powder
Chipotle Chile Powder
Paprika
I dump it all into an old coffee can and shake it up until it's evenly mixed.
The night before I'm smoking my brisket I will slather it with yellow mustard, then sprinkle the rub liberally on all sides of the meat. Wrap it all in foil and let it sit in the refrigerator over night to absorb all the flavors.
Related Posts